Sorry to DISRUPT your normal live music recap… Ok, that was a little too punny, moving on. If you didn't know, Rockstar Energy is now hosting their own punk/emo/metal music festival, and I was fortunate to photograph here in Austin TX. I'm not one to spend the day in 110F humid heat to photograph shows, but this I could not pass up. All these bands bring me right back to high school, and I was my emo self from the ages of 14-17, and it was glorious. Not to mention this was one of the first stops on their on-going tour.
Out at the Austin 360 Amphitheater at the F1 track, lie a massive music venue, capable of holding more than 60,000 people. My first time out there was about this time last year photographing more metal/rock bands like Taking Back Sunday and The Offspring. The rush I get being in the pit with a crowd larger than my hometowns population is just fucking unreal.
First on the afternoon/night lineup was Memphis May Fire, and it was my first time seeing them live, let alone photographing them and they blew my mind live. Due to a family emergency, the back up guitarist/vocalist wasn't there, but that did not stop them from melting my face. Before I continue, I cover many different styles of music, but when it comes to emo/punk/metal, it's my jam, what I listen to constantly. MMF is the classic melt your face emo punk, screams n all with the heavy drums and guitars, purely incredible. If you haven't heard them, and emo is your thing, deff check them out. But I am sure their music is not for the most of you, but I don't care, I love it.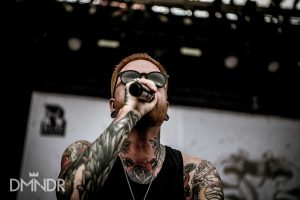 Next in the line up was The Story So Far, and I was fortunate to photograph them live last year opening for a few others bands. No to be biased, but their music isn't my favorite, but I love to photograph live music regardless of what it is. I just wish the signer (Parker Cannon), would move more about the stage and not keep his hands behind his back. Otherwise, this band again brings my back to my punk shit head days and was awesome to see live again.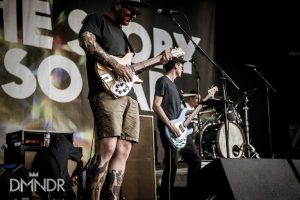 Circa Survive is next on the bill, and this band was a favorite of mine back in they, and holy shit did they put on one hell of a show! I've never seen so much energy (no pun intended) come from a signer in my life (Anthony Green). I remember this band being all the girls favorite growing up, and I don't blame them. His (Anthony) has a high pitched voice and scream that would knock the socks off of anyone. He rushed the stage and immediately jumped into the crowd singing along with die hard fans. Truly an incredible experience!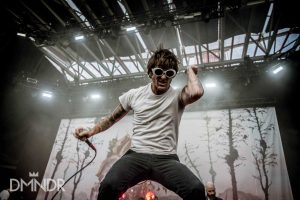 Thrice. Where do I start…? Thrice is in one of my top 5 favorite bands, and this is the third time I got to photograph them, and as always I left jaw speechless with my jaw dropped. Releasing a single the day before, they opened with that and the crowd went nuts, as did I. This band back in my high school days (about 14 years ago) was a completely different band. Back then they were the classic fuck you punk rock band, which aligned with my dumbass rebellious side. But over the years, they have adapted their sound to the needs of the fans and have a much more "tame" tone to them. It's hard to write about them because their music has such a big impact in my life, leaving me speechless now. All I do have to say is, listen to them, you will not be disappointed.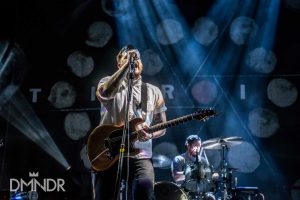 Finally we have The Used. My. 2 closest friends, whom I moved down from NH with were massive fans of this band growing up. I didn't hate it nor did I wow over it, but was always a band that was jammed out in the car or basement when we getting stoned with out my mom "knowing" we were doing so, we were and are such idiots. One of my neighbors down here is friends with the guitarist, and I got to chat with him real quick before getting in the pit for another band, awesome chill dude. Anyways, when I think of the emo/punk scene back in the, this is one of those bands that comes to mind first. Overall their performance was incredible and they haven't changed a bit in the last 15 years.
If you're an ex emo/punk person like myself, and Rockstar Disrupt Fest is in your area, you must go. It will bring back both good and bad memories of being a young asshole and will give you goosebumps, guaranteed. The price of admission is incredibly cheap considering the line up as well. Disrupt your normal routine and go! There are plenty of dates left to catch this tour, check here: https://rockstardisrupt.com/