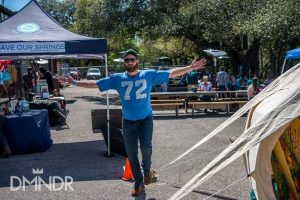 After living in Austin for about 6 years now, you meet some pretty amazing people and get some fantastic opportunities to drink beer and see live music. But during SXSW, theres just too much going on and you begin to avoid the largest music festival in the world. So when my next door neighbor, Carl, aka Hot Carl, asked me if I wanted to photograph 2 of his showcases at 2 different breweries, I said fuck yes.
Carl works for a local solar company, CamSolar, and he puts on events almost every week. During SXSW he hosted 2 showcases at 2 local breweries, and offered to "pay" me in beer to photograph these day long music events. I was in. Ill take any chance to drink beer, see live music, smoke a little pot, and meet some people.
His cousins band, Brothers of September, from Utah stayed with him for a week, with a camper out front, air mattresses littering his floor, and beer cans sprawled out. Brothers of September, were the headliners at both events, and I since they were next door, I got to hang out with them every day. To say the least, we got fucked for 4 days straight. They are a folk like alternative band and Christian, the signer, has a deep tone that soothes the soul. They are currently touring around the midwest, so if you are in that area, try to catch them.