Its 3pm on Sunday afternoon. I'm in the photo pit at Forecastle Festival, and there's a young guy running around on the Ocean stage in front of me in a slinky black silk slip dress and pink knee socks. He looks pretty cute. The gals in the audience behind me are losing their minds. This is already a pretty good Sunday for me, as the opener of the day was my favorite (though not genetically-related) Joan Jett progeny-band; Sunflower Bean.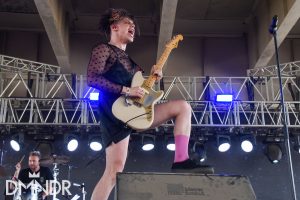 The guy is Yungblud, or the lead singer of Yungblud (Dominic Richard Harrison) and he's dating Halsey, which kind of makes sense, as here are two people who clearly are pretty comfortable with their gender and their gender bending. Yungblud writes songs of protest. In an era of Trumpism, in the heart of America, teens are showing up early on a festival Sunday for protest songs. This is perfect. Mr. Harrison looks up in delighted astonishment as the crowd sings his second song "I Love You, Will You Marry Me" back to him. He was about to teach them the lyrics, and they already know the full (and fully ironic) lyrics. There are thousands of people here on a Sunday afternoon singing his lyrics. Halsey is somewhere in the side stage. He is having a really good day.
An hour or two after the show Yungblud tweets against the ICE raids.
Rock on Forecastle!
After covering Forecastle Festival for 5 years, I've come to appreciate the festival for both its great headliners and equally for finding the up and coming talent and broadening its reach. Alabama Shakes, Jason Isbell, Brandi Carlile, Stapleton, Sturgill Simpson, Portugal The Man, all appeared at Forecastle before they became widely recognized.
This year we enjoyed (in posted order): Sunflower Bean, Dawes, Anderson East, Chromeo, Nelly, Playboi Carti, Maggie Rogers, The Avett Brothers, Anderson Paak, Andrew Bird, Mt. Joy, Moon Taxi
and
Yungblud. Halsey might be on to something…