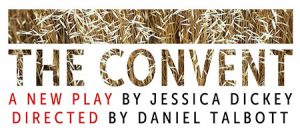 Review by Lindsay Cohen                                                  A.R.T./New York Theatres                                                             502 West 53rd street                                                                           By Jessica Dickey                                                                     Directed by Daniel Talbott
When the audience enters the room where Jessica Dickey's ("The Amish Project") latest play Convent takes place, we are immediately struck by the innovative and unusual environment created by set designer Raul Abrego and projection designer, Katherine Freer, and brought to life beautifully by light designer Joel Moritz with an excellent sound design by Daniel Melnick: An otherworldly multi-media display transform an otherwise empty and dark set, placing us in fields of lavender, blue skies, and mountain tops. It is easy to imagine, as the first characters to emerge winded and needing to sit down describe, the steep climb up the mountain necessary to arrive at this cloud-filled haven, or, Convent.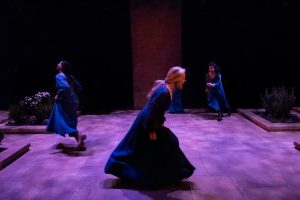 The Convent, we soon discover, is led by spiritual leader, Mother Abbess (a physically-compelling Wendy Vanden Heuvel) who creates a sacred space for women to gather and heal or find themselves. The women run the gamut from the two who seem to be permanent fixtures here (a hilarious and touching duo, played by Amy Berryman and Annabel Capper) who gather wood, collect food and water, cook and clean, all the while falling in love, to first-timers, a younger woman who has recently lost her mother, surprisingly, a nun seeking to re-find her faith, or perhaps herself, and finally, another woman who finds her success as a lawyer as well as her marriage completely unfulfilling (the excellent Margaret Odette). But the heart of the story lies in the dynamic between Patti (a touching, rough around the edges but heart of gold, Samantha Soule) and the Mother Abbess. Patti is not a newcomer to this world, and their tumultuous relationship quickly spreads into the rest of the play; Patti, who ironically seems to long most for peace and acceptance while creating havoc wherever she goes, threatens to destroy the experience for all the women here. Her initially delightful affair with the unfulfilled lawyer precipitates an unanticipated ripple effect throughout the play, while her journey in entirety acts as a catalyst for the other characters, forcing them to also question their authenticity and true desires (this is brought out in an excellent scene where, as an exercise led by the Mother Abbess, the women are forced to express out loud what they truly want) and lends tension and heart to the entire spiritual journey of this play,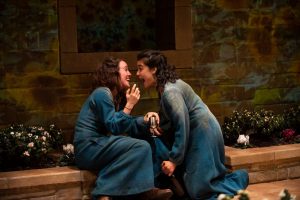 The play calls into question in a timely manner the ethics and morality of our leaders and selves, examining the multiplicity of human beings, capable of great actions and deeply flawed behavior, and ultimately the need for and ability to forgive.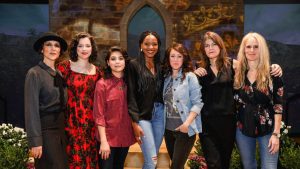 Convent with Amy Berryman, Annabel Capper, Brittany Anikka Liu, Lisa Ramirez, Margaret Odette, Samantha Soule, Wendy Vanden Heuvel, produced by Rising Phoenix Repertory and Weathervane Productions, associated producer Rattlestick Playwright's Theater