Bring yourself back to 2005, when every radio station you turned to was dominated by the ambiguously tropical club jam, "Pon de Replay". This is when we first met Rihanna. Throughout the past decade, Rihanna has transformed herself into pop culture icon backed by a seven album arsenal stacked with chart topping hits that were released not even a year apart. Last week, the singer discretely broke the internet by offering her highly anticipated album, ANTI for a free download exclusively through Tidal.
The strangest part about this surprise isn't the fact that she dropped a highly anticipated album for free but the fact that this is her first full length release since 2012's Unapologetic. Since her debut in 2005, all of Rihanna's albums were released within less than a year of each other which one can argue rightfully claimed her spot atop the pop culture throne.
ANTI is nothing new by any means. Rihanna is doing as she always done by embracing and adopting current trends in pop music in order to cater to her mass fanbase. There is something for every type of Rihanna fan on this album through the lens of stylistic trends. For those who like that over produced modern hip hop there's "Woo" and "Desperado". Songs like "Needed Me" and "Yeah, I Said It" cater those indie types who seek electronic R&B. Rihanna even hops on the newest industry bandwagon of reviving 1960's soul in her reinvention of Al Green's on "Love on the Brain."
But let's refocus ourselves here. Halfway through the album you'll hear a song called "Same Ol' Mistakes". The average pop radio consumer will hear a brand new side of Rihanna exploring a shiny synth-covered world. But the complete opposite listener who dabbles in music discovery will be a bit shaken to hear Tame Impala's "New Person, Same Old Mistakes."
Yeah, Rihanna covered Tame Impala. Within in seconds of the discovery, anger immediately took over. The pretentious, Kevin Parker fan girl inside of me instantly built a wall of defense. However, once that angry fan girl calmed down I realized this is probably the most honorable nod to Kevin Parker and his craft.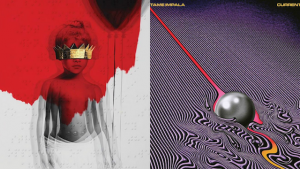 This is a piece of advice to all my Tame Impala people out there, because I feel for you all. You have to take a step back and put yourself in the shoes of an independent psych-rock band getting covered by a massive pop star. The integrity of this Rihanna's cover and its artistic measure is up for debate but it is still the big wigs tipping their hat to the underdogs.
The one thing that is difficult to grasp, is that people are applauding Rihanna for her "hypnotic cover" of the song. Listen to both songs. It's the same damn thing. At points in the song she even models her voice after Parker's, and the distinction between the original and the cover become foggy. For this reason, she sounds the best she ever has because it's not her song. Take one look at the production credits, every song has all these producers and writers on it. "Same Ol' Mistakes" is the only song where the sole writer and producer is Kevin Parker.
I invite you to do the following: 1)Listen to the original version of Tame Impala's "New Person, Same Old Mistakes." 2) Formulate your own opinion. 3)THEN listen to Rihanna's cover on ANTI. Compare the two, and take into consideration both sides.
Perception and interpretation. These are two fundamental pillars that contribute to the beauty of music.